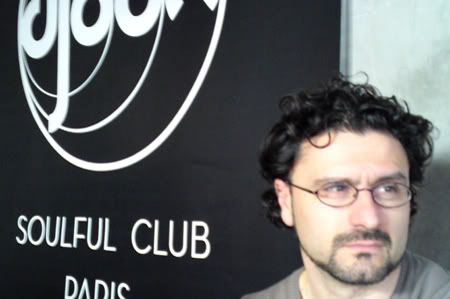 Afshin Assadian is the proud owner of the club and restaurant
Djoon
in the new 13th area of Paris. He has made sure that every weekend Djoon is the most soulful club in the city with local DJs and House Legends playing so close to their public that you can literally feel their heat! Find out about what inspires him, what Paris is really like and what you can hear at Djoon.
Read More
Name:
Afshin ASSADIAN
What do you do?
I'm the owner of DJOON
How did you become involved at Djoon?
I created the place five years ago
Describe Djoon in one sentence.
DJOON is a bar restaurant and a club in a new area of Paris, with a spirit of loft, with a mix of contemporary and baroque design
What can we expect to hear there?
All kind's of good dance and black music from soul to house...
How would you describe Djoon regulars?
Music lovers, open-minded people and some of the best dancers in town
What's the best thing about the city of Paris?
The mix of people, race, culture, and the way that people always trying to be creative about music, design and fashion.
And the worst?
Parisians are always complaining about almost everything (the weather, the crisis, the noise...)
If you could invite anyone (dead or alive) to come and perform, who would it be and why?
I have so many in mind... but if I have to choose just few, it will be James Brown first of all, because he is the boss JJ/MM/AA! and after, Larry Levan, because he made what modern clubbing is today (our conception of music, mix of people).
Who's set to be hot in Paris in 2009?
We have so many artists scheduled at DJOON in 2009, but to name a few I would say Kenny Dope, Theo Parrish, Loco Dice...
Some advice to anyone visiting the city for the first time?
Just don't go only to the trendy places, but try to visit the underground ones, and if you want to party, you know where to go now!
What's the secret behind the popularity of Djoon?
Sincere love and passion for music, and I hope a friendly and smart management
Most memorable experience at the club?
Every time the magic of music happens and hits the crowd, it could be our local residents or a big name, it doesn't matter.... a moment like Kenny Bobien singing "rise above the storm" accapella, the whole room had goose bumps!!!
or when John Legend was playing piano during a special show... when Daft Punk made their aftershow at DJOON...
or the first time that the Martinez brothers came here and rocked the place...
A moment you would rather forget?
The night when their was a reservation at the restaurant under the name Placebo, I was off that night and I only found out later that it was the group PLACEBO who were secretly celebrating their gold record award ..and I missed it!
(Le soir ou il y a eu au restaurant une réservation au nom de placebo... j'étais off ce soir là, et je n'ai su que plus tard que c'était le groupe PLACEBO qui fêtait son disque d'or de façon très confidentielle... et j'ai raté ça !!!)
What are you listening to on repeat at the moment?
"those days are gone" by Alex Finkin and Reverend P dance culture remixed by Greg Gauthier,
"la baraka" by Franck Roger from Realtone Records, "catalan fc & sven love" (the cheers theme)
Your hopes and fears for the music industry for 2009?
Hopes : new talents, more real house artists with album and faces so our music could meet the mass and sell more just like they do in South Africa.
Fears : more producers and labels to quit the business, less vocals coming out, less soul in the music.
What's the most exciting thing in your life right now?
My daughters starting their own rock group!
(Mes fils qui montent leur groupe de rock ! )